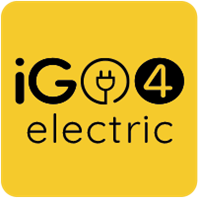 iGO4 Electric App Privacy Notice
We take the protection of personal data and your privacy very seriously. This Privacy Notice explains how we use and protect your personal data which is collected by the iGO4 Electric App (the App).

Who we are
iGO4 Ltd and the insurer of your policy are the data controllers of your personal information. You can contact iGO4 on data privacy matters at data.protection@igo4.com or by writing to us at Data Protection Officer, iGO4, iGO4 House, Staniland Way, Peterborough PE4 6JT. Your insurer's name and contact details will be provided on your Certificate of Insurance. Further information about how your insurer uses your details may be found on your insurer's website.

What Personal Data does the App Collect?
When you register for the App, we collect your name, email address and username.
Once you are registered for the App, it will start to collect your driving data whenever you have your phone with you. The information collected via the App includes, but is not limited to, acceleration, braking, speed, cornering and driving behaviour. For journeys during the first few weeks the App will ask whether you were the driver or a passenger and will use your responses and your driving style to assess whether you are driving during subsequent journeys.
This captured data will be sent by an electronic data feed to our technology supplier who will translate the GPS co-ordinates from the App into specific location data. This information will be combined based on your driving behaviour, giving you an EV efficiency score.
We will need to collect, access and share data from your mobile device for the purpose of App functionality and performance improvements. The App will access personal data on your mobile device through:
Information you provide to us
Information held on your mobile device (e.g. Phone model, device ID and OS version)
Information you have permitted the App to access via app permissions.
The app will access/collect the following data:
Device background location through network and GPS (to enable the app to automatically detect trips)
Wifi, Bluetooth, and network status and connections.
How We Use Your Information
The driving data will be used to produce records of the journeys you have taken and a EV range calculated, which will be regularly updated. journeys, any events, and your EV efficiency score will be displayed on the App.
iGO4 and your insurer will use the driving data for the following purposes:
to offer you hints and tips to help improve the range of your car and your driving safety;
to help the insurer handle any claims, and reduce fraud, by assisting with the identification, assessment or investigation of claims made and to provide clarification as to the circumstances of the claim;
to provide you with any other additional services requiring use of the App, which we may offer you and you may agree to take up from time to time;
to help us understand safe driving behaviours which we and the insurer will use to develop the underwriting and pricing of our insurance products and to inform development of similar products, services and systems;
to validate other information provided by you when buying, adjusting or renewing your policy, including but not limited to where your car is kept and your annual mileage.
We will use your personal data to assess the performance and stability of the App and improve its features and performance.
The information collected by the App will also be used by us, your insurer and our respective agents for analysis and research purposes both during the period of insurance and once your policy has ceased.
We use automated decision-making to analyse your driving behaviour and calculate your driving score. If you have any concerns regarding your score or the data displayed on the App, please let us know.

How long we keep your personal information
Your access to the App will cease when your policy ends, and you may uninstall it at any time.
From the moment you stop using the App, we retain your data for up to 7 years, after which it will be deleted. In exceptional cases we may need to retain your data for longer than this, if for example there is an ongoing claim.

With Whom Do We Share Your Information?
We will disclose information collected by the App in the following circumstances:
where you have provided your agreement;
to our agents and suppliers for operational reasons and for the processing and analysis of App data, including for research purposes;
if we are required by law to disclose the information, such as to regulators or to the Police. We will not pass the App data to the Police unless required to do so.

Legal Basis for Processing
We collect and process your data (such as personal, device and location data) in order to provide you with a service in accordance with a contract to which you are party or under which you are insured.
We may also process information to comply with a legal obligation, or where the processing is necessary for the purposes of our legitimate interests. Where we rely on a legitimate interest to process your data, we will only do so when our interests are not outweighed by your individual rights and freedoms.

Other Applicable Privacy Terms
For more information about how we use and process your other information under your iGO4 policy, please visit https://www.igo4.com/privacy-notice.
Changes
We may change this Privacy Notice from time to time. Any changes will be updated on this page and if appropriate notified to you in writing.
Last updated: November 2022
Keywords: add-on, additional product, optional extra, electric, electric vehicle, app, car insurance